Across the region there are great summer camps and other resources for families and children of all ages.
Summer camps and programs are a perfect way for kids to connect with their faith and make more friends at the same time. There are  many types of camps to
choose from: traditional away-camps a distance from home requiring 2-3 days to two week stays, day camps where the child returns home each evening,  to longer camps that offer opportunities for training to return as a camp counselor when older. The focus of each camp can vary as well. Some camps are denominational in nature and bring students from their church and other churches in their denomination together. The camps are them-based and bring students from a variety of denominational backgrounds. Either type of camp may focus on spirituality and are often centered around outdoor activities. While this can be true for local opportunities, Day Camps may also be either denominational in nature or open to all children with faith backgrounds. These may also have themes around the fine arts, science, exploration other topics.
church camp, which introduces and strengthens the foundations of the church as well as provides an outlet for youngsters to explore friendships.
No one k nows the needs and personality of their child better than a parent. When choosing a camp, make sure to include your child in the decision making. Ask them what their interests are, if friends attending is important or if they want to "get away" from their traditional friend group for a short period to meet new people. By having these discussions, you are sure to find a camp that will fulfill both the desires of the parent and the desires of the student.
Below are camps which Metro Voice has found to offer the highest standard of quality while meeting the needs of these parents and students.
---
CAMP CUMCITO

(City Union Mission Camp in the Ozarks)

Each summer more than 650 children from impoverished and homeless families throughout the Kansas City metro area enjoy bright sunny days filled with love, laughter and the opportunity to make new friends at our
residential summer camp located in Warsaw, Mo. They sleep in clean, safe beds and are provided three nutritious daily meals and wholesome snacks. In chapel, at campfires and during quiet times with caring Christian volunteers, they learn about Jesus Christ and how he can help them build bright futures. Boys and girls ages 7 through 16 attend Big Camp, where they take part in swimming, fishing, hiking, arts and crafts, and other exciting adventures. In our Tot Lot, youngsters 4 through 6 are provided with appropriate summer-camping clothing and swimsuits and enjoy story times, tea parties and pony rides. Weekly sessions are held throughout the summer months for young campers as well as families.
To ensure no camper is left out this year, consider filling one of our many volunteer roles for one or more of our six week-long sessions. We need cabin counselors and assistance in food service, housekeeping and office administration. Lifeguards are also in the list, as well as bus monitors and attendants to assist children departing to camp from the city and returning home again.
If you or your group can volunteer your hearts and hands, visit https://cityunionmission.org/campcumcito/ for a list of all the opportunities yet to be filled!
THE CULTURE HOUSE
Spend your summer at The Culture House … TWO LOCATIONS (Olathe & Oak Park Mall)!
Our 2019 summer programs include dance, theatre, music and visual art … all taught by professionally trained adults.
TWO WEEK INTENSIVE PRODUCTIONS! "A Year With Frog and Toad" (ages 13-20), "Disney's Mary Poppins Jr" (ages 10-13), "Disney's 101 Dalmatians Kids" (ages 6-11) and "Disney's The Little Mermaid Jr" (ages 14-16)
THE GREATEST SHOW: MUSIC AND DANCE EXTRAVAGANZA! You do NOT want to miss this one!
TCH DANCE INTENSIVE! Master classes in all styles for intermediate and advanced students (Ballet Level 3 & up).
RECORDING STUDIO BASICS! Full-scale immersion in our state-of-the-art professional recording studio (ages 13-18)
OTHER AMAZING WORKSHOPS, CAMPS and CLASSES! Music of TROLLS, The Return of Mary, Princess Power, Improv Comedy Camp, Broadway at the Tony's, Intro to Acting, La Petite Princess & Le Petit Prince Ballet, Itty Bitty Ballet, Style Explosion Hip Hop, Me & My Dolly Ballet, Classical Ballet Mini Workshop, Creative Movement, Pre-Ballet, Modern, Ballet (all levels), Jazz, Teen Adult Ballet, Girl Power Vocal Intensive, Rudimental (percussion) Boot Camp, Beginning or Intermediate Songwriting & Theory, Marimba FUNdamentals, Painting, Sculpture & Mixed Media, Drawing (all levels), ROBLOX & Art, Exploring Art, Minecraft Inspired Art, Cartooning & Illustration & MORE!
Openings limited! ENROLL NOW! www.culturehouse.com
The Culture House, founded in 1996, has two locations:
Olathe houses our Conservatory of the Arts which offers extensive training in Dance, Theatre, Music and Art for both the recreational and the vocational student; our professional division that includes Storling Dance Theater; the TCH Recording Studio; and our Summer Broadway Musical Theatre Production at The Kauffman Center!
Oak Park Mall is home to classes and workshops for beginner students in Dance and Theatre, as well as ongoing family-friendly events and activities. The Stage also presents a wide variety of performances, special workshops and inspiring gatherings. Stay tuned for upcoming events!!
We are fortunate to have 50+ professional artists investing their skill and inspiration into our students.
Please explore our website for class listings, calendar of events and upcoming performances (both at Oak Park Stage & Studio and elsewhere in Kansas City). If you have any questions, do not hesitate to contact us at 913-393-3141 or at info@culturehouse.com. Visit www.culturehouse.com.
DRAMATIC TRUTH SCHOOL OF THE ARTS
DRAMATIC TRUTH'S SIX SUMMER CAMPS FOR ALL AGES
CAMP #1 Do you have an aspiring princess at home?  Well, where better to learn how to be a princess than at Dramatic Truth's Princess Training Camp July 1-3 at the Dramatic Truth Studio, 10510 Grandview Rd., Kansas City, MO 64137, ages 3-6 (Wee and Pre-Ballet) At 9am, we will begin with a devotion focusing on how we are God's princesses and He is our king.  Following this inspiring devotion will be a series of classes for your princess to attend: dancing, acting, and etiquette, as well as arts/crafts and snack time, concluding at 2pm. Camp attire is a leotard, tights and ballet shoes… a dance skirt is optional. (Note: if you don't have these items DT can assist you for these 3 days.)
CAMP #2 Dramatic Truth's The Many Tales of Pete the Cat 2019, June 10-14. Rock out with Pete the Cat, the most optimistic kitty around! Using Pete the Cat stories, young actors ages 5-8 will explore using their bodies, voices and imaginations to create new outcomes that are "all good"! This camp will take place at the Dramatic Truth Studio, 10510 Grandview Rd., Kansas City, MO 64137. 
CAMP #3 Dramatic Truth's Get Your Feet Wet Dance Camp, June 17-21 is for those ages 7-13 who would like to try dance for the first time! Explore styles of dance including ballet, jazz, contemporary, hip-hop, musical theater, Irish Step and more! You will also learn how to use dance in a worship setting, equipping you to use worship dance at home, church or anywhere you may go! This camp will take place at the Dramatic Truth Studio, 10510 Grandview Rd., Kansas City, MO 64137.
CAMP #4 Dramatic Truth's Readers Theater Camp, June 17-21, is for those ages 9-12 who would like to experience a different type of acting! Before television, theater was used in radio, creating the story using only sound effects and the actors' voices. That is Readers Theater! So leave your costumes and sets at home and jump into an adventure of creative storytelling. This camp will take place at the Dramatic Truth Studio, 10510 Grandview Rd., Kansas City, MO 64137.
CAMP #5 Dramatic Truth's Around the World – Youth Worship Dance Intensive 2019, June 24-28 is an amazing opportunity for the young, (1 year experience ages 8 and up) yet serious student to accelerate their progress during the summer months. They will experience learning the various dance styles from around the world with hands on, personal attention with seasoned professional Caitlin Gregorczyk! TheYouth Intensive will take place at the Dramatic Truth Studio, 10510 Grandview Rd., Kansas City, MO 64137.
CAMP #6 The Dramatic Truth Worship Dance Intensive is for ages 12 to professional dancers seeking serious individualized instruction. The event is three weeks, July 8 – 27 but, a student can take one week or two weeks only, if they wish. The camp offers a daily technically challenging, professional ballet and modern training program, as well as Pointe, Point & Variations, Pas de Deux, Hip Hop, Pilates, Irish Step Men's Class, Contemporary, Character, Choreography and Repertoire. Devotions take place every morning, worship 3 evenings a week, and all classes are designed to help the dancers weave their worship and technique into one. The Intensive will take place at the Dramatic Truth Studio, 10510 Grandview Rd., Kansas City, MO 64137.
For more information or to register, go to dramatictruth.org, or call 816-767-9222.
GRANDVIEW CHRISTIAN SUMMER CAMP

 (Grandview Christian School and Golden Eagle Preschool)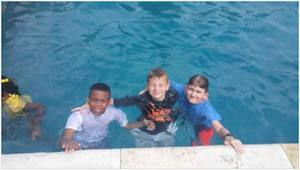 Come Sail Away at Grandview Christian School!
Your student's won't want to miss the fun at GCS's Come Sail Away Summer Camp!
We will have games, activities & educational components as we spend time learning about the 7 seas & 5 oceans. And, of course, we will enjoy lots of water days & fun field trips! Camp begins Monday, May 20th, and goes through Friday, August 2nd.
Along with the 'camping' fun, we will have daily praise and worship, as well as plenty of time to keep math & reading skills sharp. Your students will thoroughly enjoy all 11 weeks of our summer camp program, culminating with an End of Camp Water Party held on August 3rd.
We accept students from age 3 through 6th grade (completed). Camp fees include morning/afternoon snacks, packable lunches, and field trip fees. Note: Preschool age students will not attend all field trips, but only those that are age appropriate.
Weekly and daily 'drop-in' rates are available. Camp begins each day at 7:30am and ends at 3:30pm. Extended care is available as early as 6:30pm and as late as 5:30pm, for a nominal fee. Registration is just $65/student by April 30th. Registration is $90/student as of May 1st. Add $5/student for camp t-shirt, if desired.
Our teachers really know how to engage all the students and make learning an adventure! We are excited to have your student(s) join us for a summer filled with fun & learning at Grandview Christian School's Come Sail Away Summer Camp!
For more information visit us ONLINE!
iD TECH
3 great reasons to attend iD Tech this summer!
This summer, tens of thousands of iD Tech campers will get hands-on with coding, game development, robotics, and design. It's the perfect way for students to make unforgettable memories, have fun-filled STEM learning experiences, and explore prestigious campuses, like University of Missouri – Kansas City.
So, what is it that makes us the #1 summer tech program on the planet?
1. Students can start preparing for successful STEM futures.
Did you know that in the US alone, millions of STEM jobs are going unfilled? Sure, your little one might be years away from thinking about a career, or even college, but when it comes to STEM, there's no time like the present to plant the seed.
Why?
If kids can dive into a STEM program now, they will be that much more prepared than their peers when it comes to grabbing one of the many high-paying STEM jobs down the line.
2. Children will discover that other kids do in fact share their same interests!
Everything's better with a friend, right? But even if kids aren't bringing their best buddy to camp this summer, there is always the chance they'll make some new pals.
What is the best atmosphere for cultivating such relationships? It almost always starts with being among those who have similar interests.
In fact, we hear the same thing summer after summer: "I've found my people" or "I've found my tribe." Students at iD Tech have the unique opportunity to bond with peers who also love apps, social media, and gaming.
Camp, and iD Tech specifically, provides an ideal environment for making new friends. Students sign-up for a specific course in coding, game development, robotics, or design, and are surrounded by other students just as eager to learn this new craft.
3. And finally, it's an opportunity to experience the absolute best summer ever.
Sure, iD Tech is the largest and most trusted camp of its kind. With 50+ cutting-edge courses, the best industry-standard software and hardware, a unique camp culture, and an unmatched lineup of prestigious campus locations, we can't be topped.
Since 1999, over 400,000 kids and teens have passed through our programs—making friends, learning new skills, and getting prepared for college, internships, and dream careers at companies like Google, EA, Disney, and Tesla.
With iD Tech programs held at nearby locations like University of Missouri – Kansas City, kickstarting your child's future in STEM has never been more convenient.
Courses are selling out daily. Get started today at iDTech.com or call (888) 709-8324 for personalized course recommendations.
Living Waters Canoe Ministry
Drawing a straight line…
By Paul Ewing, Founder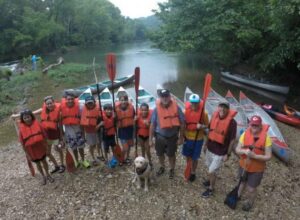 On my own, even in the best of circumstances, I am only decent at drawing straight lines. Now imagine we are driving 55 miles per hour down a curvy Ozarks road, with you and your friend both holding the same pen trying to draw a straight line while the paper is being jerked in different directions….that can be like canoeing.
I've observed canoe partners become frenemies. I've seen tiny branches wreak havoc. I've seen once tricky cross currents turn into a great friend (once you learn them). In all of this I have yet to see many straight lines.
It just is not the point.
So why are we so dedicated to this ministry?  First, it is about Jesus. The life He was born to lead and the price He paid so that we may live a life eternal in the Creator's presence. Sometimes in the comfort of the noise of our life, we can ignore the Creation and the Creator.  But out here, on the river, in the demands of silence… it is unmistakable. There is a God, and He wants our attention.
That is the point.
God brings us each to Him at His time and His place. Being given the opportunity to serve that loving God is life's greatest privilege. Since 2001, we've been blessed to work with over a hundred volunteers; many of them complete families with young children. Never once had a volunteer imagined themselves at Living Waters. But just as the straight line is not the point, saying YES to the calling is the point.
We are pleased to share His creation with you.  Dive In!
Visit us at www.john738.com
YOUTHFRONT
Youthfront Camp has provided a fun and faith-building camp experience to boys and girls for more than 75 years. We offer day camp for younger campers and overnight stays for elementary, middle and high school students. At Youthfront, kids can grow in their relationship with God and make friendships that last a lifetime!
Why camp at Youthfront?
Our kids are asking questions all of the time. At a young age, it's "How will I get my homework done?" or "Who will I sit with at lunch?" As they grow, the questions get bigger: "Where do I fit in?" or "Is God real?" or even, "Who am I?" At Youthfront Camp, we have created a space where kids can search for answers to begin or continue their faith journey. Whether your camper attends at Youthfront Camp LaCygne or Youthfront Camp West, they will experience:
FUN– There's no denying that a huge part of being a kid is having fun. We believe one of the best ways to worship God is through wholesome play. A typical camp day includes plenty of time for swimming, zip-lining, water sliding, Splash Park fun, Nerf Wars, theme nights and more!
A SAFE PLACE– We provide an atmosphere where students can grow in their faith in an environment specially tailored to their needs. Time and space is carved out for students to connect with their creator through play, worship, community, scripture, solitude, prayer and reflection.
COMMUNITY– Youthfront Camp is a special place of acceptance and love where strong and meaningful relationships are built. The practice of sharing life together at camp for just a few days creates a culture of spiritual growth among campers and staff.
Want to know more about the Youthfront Camp experience? Visit youthfront.com/camp for videos, camp schedules and FAQ.